Sons of the Republic of Texas

Gene Brownlow SRT #09271


Daughters of the Republic of Texas


Tammy Brownlow DRT #30030


Sons of Confederate Veterans

Gene Brownlow SCV #323239
Donnie Brownlow SCV #323752
Johnny Brownlow SCV #323753
Dee Mirick SCV #323238



Family Interest

Paula Jones - Author

Justin Glenn, Ph.D. - Author
The Brownlow Family Patriarch has Passed
Jeff Deen, J.D. Brownlow passed away September 30, 2016 after a hip replacement operation. JD had a fall Friday September 23th and had the operation Saturday the 24th. Living 91 years in central Texas where he lost his mother at the age of 15, his father entering the hospital the same year and then managing the farm alone for 2 years. At 17 he joined the Navy, serving on Tinian then returning to Waco, Texas where he married the love of his life, Louise Mirick. They had two children, Gene and Jenita, Four grand children, Tammy, Donnie, Sarah and Matt, three great grandsons Johnny, Brandon, Charles Eugene, one great granddaughter Kylie and one great great grandson Zachary.
JD work many years at the VA Hospital in Waco before retiring to start his own very successful painting company and running a small hobby cattle operation in Robinson, Texas. JD and Louise enjoyed travel, fishing and hunting, and spent many hours at the horse races and Keno machines.
JD will be missed by family and friends.
Special Monment!
Five Generations of the Brownlow Family.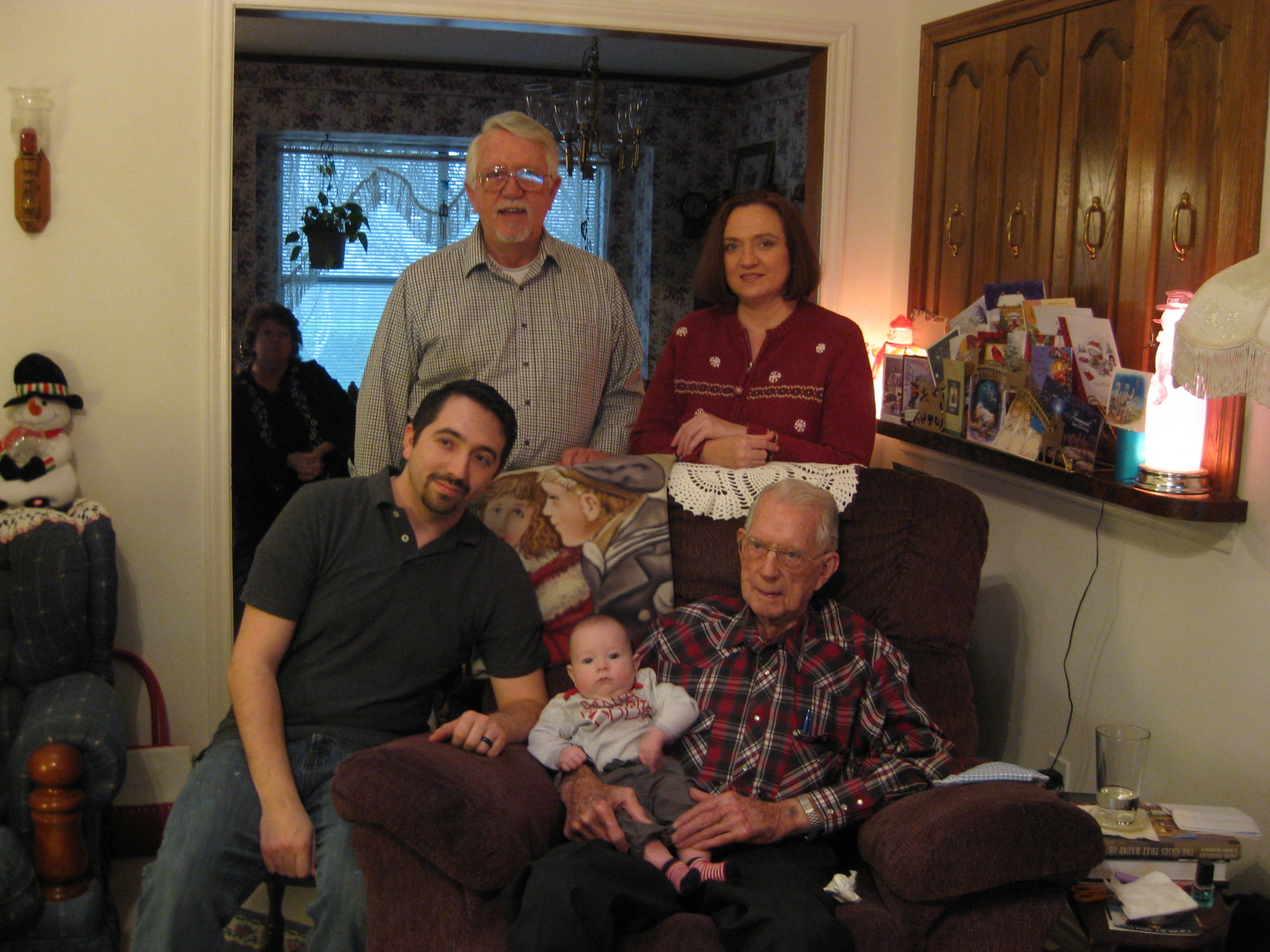 JD(1925), Gene(1949), Tammy(1970), Johnny(1988), Zackary(2014)



The Brownlow family has a long and storied heritage with many branches on its tree. This website is dedicated to those that came before us and hopefully to provide some insight, facts, and documents to trace our families for future generations.

Our research shows America is home to many different lines of the Brownlow family and our specific line entered the United States at South Carolina.

Information gathered by those before us lead us to believe the first of our family to come here was William (born about 1725) and Jane Brownlow entering the US at South Carolina. His family included Jane, John, James, Sarah and Mary. Both John and James continued the family line.

John had three sons, John A., Joseph G and James. Our specific line comes from James and his family that lived in South Carolina and Georgia. James had two sons, George Washington Brownlow and William Monroe Brownlow.

In addition to the Brownlow Family you will find Brownlowe, Mirick\Merrick, Smith, Boykin, Criswell, Sudberry, Rogers, Chapman, Bain and many others.

We will provide links to other web sites with the same interest. Some information may or may not align but we believe each has put their hearts and souls in trying to present the most accurate information possible.

This website could not have been made without the dedicated efforts of many researchers. I would like to thank past and current contributors but specifically Bette Brownlow, Jason Edwards and Bryan Brownlow. Their detail research is an inspiration to those of us that strive to find our history. Some of the documents and pictures have been collected from current family members also and along with items from web research which will be presented within the context of the Brownlow Family. Some examples will be:

Family Pictures
Copies of personal documents
Copies of documents located on the internet
Links to other web sites with documents, pictures and other data related to the family members
Family Heraldry and documentation
Our Family Tree
Anyone wishing to contact, provide information or that may have questions concerning the Brownlow Family,
please click our Contact Us page.